Cosgrove Family Foundation Donates $1.25 Million to Southwest General Health Center
Posted On:
Written By:

Caroline Fienga
Caroline Fienga
Interactive Media & Public Relations Specialist
216-299-7727 (cell)
440-816-6723 (office)
[email protected]
Cindy Flynn
Chief Marketing and Communications Officer
Union Home Mortgage
800-767-4684, ext.1229
[email protected]
Gift supports higher-level maternity, newborn care in southwestern Cuyahoga
and northern Medina Counties
Middleburg Heights, OH (Friday, July 30, 2021) – Southwest General Health Center is honored to announce the charitable donation of $1.25 million from The Cosgrove Family Foundation in support of the hospital's Maternity Unit renovation and expansion project.
Construction is well underway on the transformative $17.6 million project, which will double the size of the current Maternity Unit while adding a higher level of care for moms and babies—elevating from Level I care to Level II care. When completed, the newly named "Cosgrove Maternity Center at Southwest General" will be the only Level II Neonatal Special Care Nursery and maternity care facility in southwestern Cuyahoga County and northern Medina County.
The new Cosgrove Maternity Center at Southwest General,will include:
A higher level of maternity care—elevating from Level I (35+ weeks of pregnancy, current) to Level II (32+ weeks of pregnancy, coming 2022)
A Level II Neonatal Special Care Nursery (coming 2022)
Ten labor and delivery suites
Nineteen postpartum suites (coming 2022)
Upgraded Labor and Delivery Suites and state-of-the-art Operating Rooms for Cesarean section (C-section) deliveries
A Well-Baby Nursery
Family-friendly visitor waiting areas and support spaces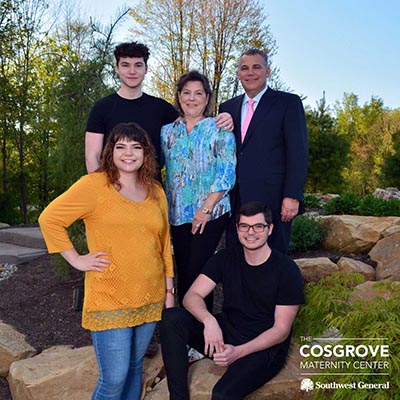 "We are extremely grateful to Bill and Paula Cosgrove and The Cosgrove Family Foundation for this exceptional gift, which will help bring advanced maternity and newborn care to the communities we serve," said William A. Young, Jr., president and chief executive officer, Southwest General. "Their generous donation not only helps support our mission to provide high-quality, compassionate care but also displays their own personal commitment to improving the quality of life for local families.
Many local families have seen generations of their children born right here at Southwest General. We thank the Cosgrove Family for their role in improving care for these families for years to come."
The Cosgrove Family Foundation
Guided by the vision and dedication of Bill Cosgrove, president and chief executive officer, Union Home Mortgage, and his wife, Paula Cosgrove, vice chairman, The Cosgrove Family Foundation, the foundation was established to ensure that everyone has access to the necessary services and resources needed to thrive in their lives.
The Cosgrove Family Foundation is proud to support the renovation and expansion of Southwest General's Maternity Unit because of the positive, long-term impact it will have on local families and the community.
From 2008 to 2017, there were more than 731 pregnancy-associated deaths in Ohio, according to the state's Department of Health. Of those deaths, 59 percent were deemed preventable.
"Ensuring that both mom and baby have access to high-quality care is critical in charting the path for a healthy, successful life," said Paula Cosgrove. "Ultimately, we want to see our local communities thrive, and that promise begins at the earliest stages of life."
To learn more, or to schedule an interview, please contact Caroline Fienga, interactive media and public relations specialist, at 216-299-7727 or [email protected].
*Renderings available upon request.
About Southwest General
Southwest General is a private, not-for-profit, 352-bed acute care facility located in Middleburg Heights, Ohio. Founded in 1920, Southwest General is home to nationally recognized physicians with full access to state-of-the-art technology. Southwest General has a deep commitment to providing personalized care and building a healthy future for the patients, families and communities it serves. For news highlights, events and additional information, visit www.swgeneral.com or www.facebook.com/SWGeneral.
About The Cosgrove Family Foundation
The Cosgrove Family Foundation was established in 2020 to provide greater access to vital services and resources to help neighbors within our footprint thrive. The Cosgrove Family Foundation believes access to quality services and resources is essential to unlocking the potential for future success for individuals, families and communities.
###