Bariatric Surgery Options
We offer the following surgeries:
Laproscopic Vertical Sleeve Gastrectomy
Performed through five to six incisions no more than a half-inch in length, your stomach will be divided and stapled vertically creating a thin vertical sleeve, about the size of a banana. Since the stomach is reduced by more than 85%, patients feel full with a small amount of food. Operating time averages between 75 to 90 minutes.
Roux-en-Y Gastric Bypass Procedure
During Roux-en-Y gastric bypass, the stomach is reduced to the size of a walnut and attached to the middle part of the small intestine. After surgery, the remainder of the stomach will be bypassed, limiting the body's absorption of calories. This procedure takes about 2 hours to perform.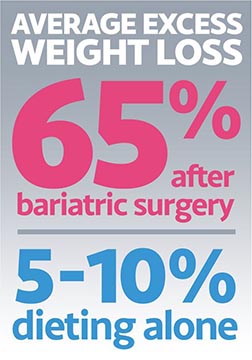 Once you and your provider decide which surgical option is right for you, you'll be asked to participate in Southwest General's pre-surgical bariatric lifestyle program to help optimize your success post-surgery. This program is required by most insurance companies. Components of the program include:
Starting and maintaining an exercise routine.
Losing a percentage of your body weight before surgery to help decrease your risk of surgical complications.
Psychological and nutrition counseling.
Support groups comprised of other surgical patients, as well as those who have completed surgery
While you are ultimately responsible for your success, you will receive one-on-one care from our team throughout your journey. Some of the long-term quality of life benefits our patients see after surgery include remission of weight-related illnesses, increased self-confidence, mobility and social life, and decreased anxiety and depression.
At Southwest General, our board-certified surgeon offers two different bariatric surgeries that result in long-term, sustainable weight loss by making permanent changes to your digestive system. Since our procedures are minimally invasive, you can expect less bleeding, less pain and a shorter hospital stay.
What to Expect Post Surgery?
The average hospital stay is 1 to 2 nights.
Average recovery time is 2 to 6 weeks.
Expect to be on a liquid diet for 2 weeks post-surgery followed by pureed foods for the remainder of the month.
You will be able to consume soft foods by weeks 4 and 5 and a regular diet by week 6.
Most of your weight loss will occur in the first 12-18 months post-surgery.
On average, people lose 60-70% of excess weight within one year of surgery. And, after 10 years, most people have maintained an average weight loss of 55% of their original excess body weight.
Schedule Your Consultation Today
Click below to see if one of these surgical options is right for you.
There are two main reasons I had the surgery. One, I was getting to the point where I wasn't sure I was going to wake up the next day and it started to really scare me. And two, the other reason I had the surgery was I was tired of having limitations on what I could do with my kids. - ROB, Lost 195 pounds