A Stroke Care Miracle Fast Action Saves Grandmother of 18
Author: Joann Bass
Date Submitted: Oct 28, 2019
Category: Heart & Vascular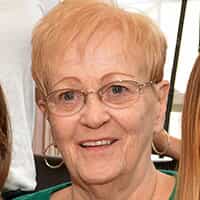 " A Stroke Care Miracle"
Fast Action Saves Grandmother of 18
There's one word that Joann Bass always uses when describing the care she got for her stroke at Southwest General: miracle.
Joann's stroke occurred on an ordinary day as she prepared to go shopping with her mother. She felt dizzy every time she stood up. Then she found she couldn't move her arm, and her leg quickly followed. Her mother called 9-1-1.
But at first, Joann didn't think that a stroke might be the culprit.
"I was talking to the paramedics and realized I was slurring my words," recalls Joann, 69.
"I couldn't even understand myself. Then I thought, 'Uh oh.' "
When she arrived at Southwest General, Joann was immediately cared for by the staff at Southwest General's award-winning Primary Stroke Center, and was immediately given a medication called tPA (tissue plasminogen activator), which quickly dissolves blood clots and restores bloodflow to the brain. It's the standard for acute ischemic stroke care, and national guidelines set by the American Heart Association/American Stroke Association call for the administration of tPA within 60 minutes of arrival at a hospital.
In Joann's case, she received the medicine within only 52 minutes of arrival under the watchful eyes of an Emergency Room (ER) nurse, physician and pharmacist.
"Within a half hour it worked—I could wiggle my toes, move my arms and the droopiness in my face went away," she says. "I felt like I was revived. It was like a miracle drug."
Joann also credits the nurses and doctors at Southwest General's Main Campus ER and Intensive Care Unit (ICU) for easing her fears during what might have been a terrifying experience.
"In the ER, the nurses explained everything that was going on so I wasn't scared," she says. "In the ICU, as well, they were phenomenal. They'd come in, make me laugh and tell me what was going on."
After just two nights in the hospital, Joann went home feeling nearly back to her old self. Now she's back to regular bingo games, crocheting and spending time with her 18 grandchildren.
"I would tell anyone, if they have a stroke, they will get the best care at Southwest General," Joann says.