Quick Treatment During Cardiac Arrest Saves Brunswick Mom
Author: Christine Sidoti
Date Submitted: Oct 28, 2019
Category: Heart & Vascular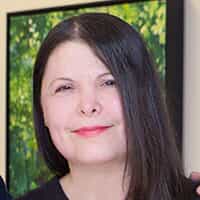 " Alone in the ambulance ride to Southwest General, Christine spent time thinking about her children and parents and the potential situation ahead of her."
Quick Treatment During Cardiac Arrest Saves Brunswick Mom
Christine Sidoti believes in guardian angels. The day her heart stopped, the angels took the form of doctors and nurses at Southwest General.
A person in her forties is an unlikely patient for a cardiologist, who typically sees individuals aged 65 or older. So when Christine, a mother of three school-aged children, started having shortness of breath and heartburn, she dismissed it as acid reflux.
"I couldn't get comfortable," says Christine, 45, of Brunswick, Ohio, about her sudden cardiac arrest. "I visited a doctor at an urgent care center near me and took prescription antacids."
The medication didn't help. Christine struggled with climbing stairs and walking.
"I'd park in the closest spot, walk to a store or back to the car, and I'd hunch over trying to catch my breath," she says.
The Past Catches Up
Christine returned to the urgent care center, this time disclosing her health history. Sixteen years ago at aged 28, she survived non-Hodgkin's lymphoma and underwent rounds of radiation and chemotherapy to destroy a tumor located between her heart and lungs.
Upon hearing Christine's past medical history, the urgent care doctor ordered an electrocardiogram (EKG), read the results and immediately called an ambulance.
"He said the EKG showed an abnormality in my heart," she says. "Before the paramedics took me, I called my oldest son. I remained calm as I didn't want to frighten him. But when I hung up the phone, I cried and feared for the worst.
Lonely Trip to the Hospital
Alone in the ambulance ride to Southwest General, Christine spent time thinking about her children and parents and the potential situation ahead of her.
"Our family has always gone to Southwest General," she says. "And that's where I wanted to go. Even though another hospital was closer, I told them, 'No, take me to Southwest General.' I delivered my kids there. I trust Southwest General."
At the hospital, Christine met Jaikirshan Khatri, MD, a board-certified interventional cardiologist on the Medical Staff at Southwest General, who ordered a series of tests.
"Christine was so young, and yet we saw more than a 90 percent blockage on the left side of her heart," Dr. Khatri explains. "We think the radiation used to treat her lymphoma 16 years ago may have contributed to this."
Unbelievable Situation
As she lay on the exam table, coming off anesthesia medications needed for the testing, Dr. Khatri and another surgeon discussed open heart surgery to treat Christine's heart problem. What happened next was unbelievable, even for an experienced physician such as Dr. Khatri.
"I had walked to the other side of the room and was looking at her films with the surgeon," Dr. Khatri says. "Right there, she went into cardiac arrest."
Christine remembers sitting up, yelling, "I don't feel good," and gasping for air. Next, she recalls seeing the lights in the room fade into darkness and feeling at peace.
For 46 minutes, Dr. Khatri and a team of doctors and nurses at Southwest General worked to save Christine. They performed cardiopulmonary resuscitation (CPR) to revive her. In between CPR compressions, Dr. Khatri inserted a stent to open the blockage in the artery of her heart.
Dr. Khatri used a minimally invasive trans-radial technique for coronary stenting, a procedure he introduced at Southwest General several years ago. The technique has a success rate of 95 percent or better in opening blocked arteries. Additionally, a ventricular-assist device was inserted by catheter to keep the blood pumping to Christine's brain, lungs and other organs.
Once resuscitated, a temperature management device was used to prevent brain damage. The device slows a sudden cardiac arrest patient's metabolic processes by reducing the body temperature to 91.4 degrees for roughly 24 hours before being slowly rewarming to the body's normal temperature of 98.6 degrees. This allows blood pressure to normalize and lessens the risk of injury to a patient's brain. The machine draws temperature-controlled water through specially designed pads that are placed on a patient's chest and thighs. A ventilator also helped Christine breathe.
Resolving the Blockage
The stent Dr. Khatri inserted after Christine's cardiac arrest worked for several months before a follow-up visit showed scar tissue growing around it.
In August 2014, Christine underwent open heart surgery at Southwest General to bypass the blocked arteries in her heart.
Forever Grateful
Christine doesn't remember Dr. Khatri running back to her or the seven cardiologists and five medical team members who helped revive her.
"I am forever grateful," she says. "I believe we all have guardian angels. Mine were just in the form of doctors and nurses that day. If I had been in any other room in the hospital, I wouldn't have survived. They would not have been able to get to me in time to save my life as fast as they did."
Dr. Khatri considers Christine lucky.
"The sheer luck of having had a cardiac arrest on the catherization table makes Christine's situation unique," he says. "We had already made the diagnosis and knew what was wrong with her, so we could react quickly.
Today, she is enjoying her family and appreciates the little things she can do again, such as climbing steps in her house and parking her car wherever she pleases.